Sleek Out
Sleek Out, the armored door that defies heat and cold.
A combination of top design and performance that expands the offerings of the security segment and ranks among our flagship products. You can find in one product all the features of Sleek – 180-degree opening, with double ledge and concealed hinges, perfect coplanarity to the wall – with the highest energy efficiency standards on the market.
Find out more
Features
Design
From the evolution of Sleek, the first armored door with concealed Macron 5.0 hinges, comes Sleek Out, the flush-mounted armored door designed to come into direct contact with outdoor environments. Same aesthetic appeal, same level of security, but with increased thermal insulation.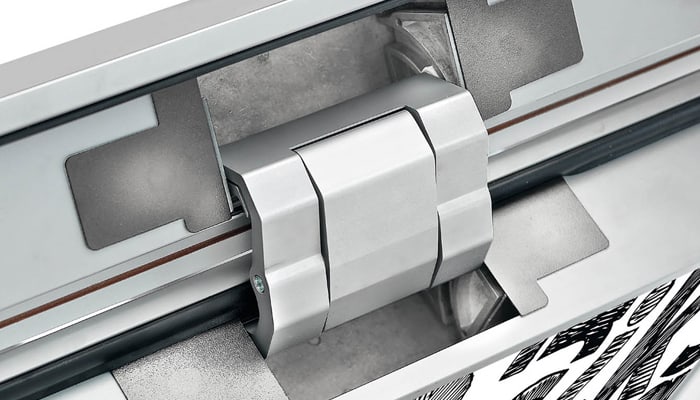 Technology and safety
Sleek Out's features: 180-degree opening, double rebate, concealed hinges, perfect coplanarity to wall, door thermal transmittance coefficient (Ud) of 1.0 W/(m2 x K) in the version without counterframe and 1.2 W/(m2 x K) in the version with counterframe.
Opening solutions
The lock features a high-security NEW POWER DIERRE cylinder with key input on the outer side and knob on the inner side. A sealed package containing 2 JACK-KEY + 3 standard NEW POWER cylinder keys are supplied with the cylinder.
Opening solutions
Locks
Lock trap blocking system
Cylinders new power and d-up
Keys
Locks
3 standard keys and the construction key are supplied as standard. As an extra, the D-UP cylinder with 2 Easy Keys and 3 regular keys can be supplied. Also coming soon is the mechanical version of the door with double high-security cylinder and in motorized and manual management the Hibry version.
Lock trap blocking system
All Dierre cylinder locks with gear system come with a security system (trap) that locks the carriage and keeps the lock bolts locked in case an attack is made on the defender protecting the cylinder.
In the event that the defender is pulled out and the cylinder is cracked, the system is irreversibly triggered, locking the deadbolts securely and preventing attackers from opening the lock.
Cylinders new power and d-up
Dierre's exclusive patented cylinder: the New Power D-Up. Anti-bumping mechanism, modular cylinder, up to 4 times more resistant to halfway breakage compared to a brass cylinder, key blanks protected with rounded patented coupling.
Keys
Technology, security, and design all in one key.
The Jack Key and Easy Key are cipher keys and folding keys with built-in snap opening.
Dierre key duplication is protected and controlled by the entire network of authorized hardware stores and key points.
Want to request more information?
You can request more information through this contact form. We'll get back to you as soon as possible.