Sliding doors
Why a sliding door? Because you restore, use and optimize. New Space is our counter-frame for concealed sliding doors produced entirely in our production facilities, suitable for any type of need, to which you can combine all the models in our range of interior doors, and it also comes in the flush-to-wall version.
Find out more
Features
Structural strength
Made from a 0.5 thick sheet metal. The structure is made of n"corrugated panels" with vertical ribs on which transversal omegas are fixed; this make the subframe rigid, thus avoiding structural deformation during the assembly. New Space key features: reinforced vertical jambs, fine mesh grid, removable sliding guide, removable structure bottom, floor guide, sliding system, two spacers.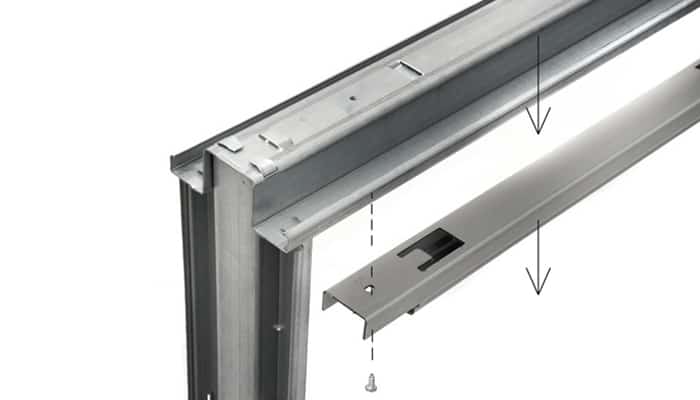 Assembly in 4 clicks
Assembling New Space is super easy and fast! The assembly and the joining of the items that make up the product are eased through practical and functional solutions. The construction of each individual item obtained in a totally automated production plant, guarantees steady quality in coupling and assembly accuracy. No tools are required to fit the transom with the lateral jamb and the structure.
Accessories and optionals
With New Space Dierre you have a world of solutions. Simultaneous opening of two sashes using only one hand, automatic self-closing sash, sash closing damper to gently accompany the sash as it closes, aluminum rail for low noise, double sash kit that converts a single sash counter-frame into a double sash counter-frame, aluminum glazed sash kit, joiner and jamb kit.
NEW SPACE
PRIMATO
DUETTO
CURVO
Structure
Accessories
Opening solutions
New Space Flush doors
Allows you to camouflage the door in the wall, blening-in perfectly with the wall. Smooth and linear door sliding, thanks to the section of the "track-shaped" sliding guide. Aluminum frame, mast, header, and rail. The rail is removable; the upright and header have knurls on the sides to aid plaster adhesion and are joined with the help of two self-tapping screws. The clamps placed on the upright should be rotated by 90 degrees to facilitate installation and avoid wasting time.
Download the catalogue
New Space Flush doors
Kit for double leaf: composed of a double cross member and two spacers allowing to turn two New space single structures in a double structure. In addition, the light point is available only on the 150 mm thick plasterboard version, which can be positioned over the entire height of the counterframe.
Download the catalogue
New Space Flush doors
Available in single and double-sliding door versions, for plaster and plasterboard. It is also possible to choose a sliding glass door version by requesting the glass door kit.
Download the catalogue
Space for gratings and sliding shutters
SPACE MONO It can accommodate a single product as an alternative to the security grille, wooden shutter, or window.
Download the catalogue
Space for gratings and sliding shutters
SPACE DUO It can accommodate two products. For security grating with wooden shutter, security grating plus window or wooden shutter with window.
Download the catalogue
Space for gratings and sliding shutters
SPACE TRIO It can accommodate three products. For security grating plus wooden shutter plus window.
Download the catalogue
Sliding doors
Want to request more information?
You can request more information through this contact form. We'll get back to you as soon as possible.