Quality and style of Italian design
When the De Robertis brothers founded Dierre in 1975, they dreamed of creating a brand that represented two core values: family and home. Today Dierre renews those values with commitment and passion, establishing itself as a one-stop partner for homes and projects, thanks to a very wide range of locks entirely produced in our factories. Safety is what we care most about for over 45 years, in every place in your life.
Discover our history
01
The Company
Dierre has helped transform the concept of the security door from a functional element to a furnishing accessory, from a barrier on the outside world to a symbol of style and personality. Underlying the policy and corporate culture is the commitment of the De Robertis family and the enthusiasm of many people who have always looked ahead. There is pride in belonging to a cutting-edge group that seeks to meet people's needs and anticipate solutions.
02
Our History
A world-leading Italian brand in the production of security doors, Dierre stands out for the innovation of its products and its ability to develop simple solutions that make the use of the latest technologies truly affordable for everyone. Making products that are always technologically innovative, combining safety and design in a wide range of doors that can be adapted to any decor and customized as desired, has been the goal pursued since the company's creation. Making cutting-edge products also mean being innovative on the industrial process front.
03
Leader
To be able to combine standardization of production with the maximum customization required by the market, Dierre relies on exclusively designed software, processes and technology, with great attention to environmental protection and respect included for Dierre, which manages and normalizes each new order, entering it into a general database that can be consulted from any part of the world, by any dealer, providing a real-time response to customers.
04
Internationalism
Dierre also industrializes special products and brings the most innovative technology to daily life, making it easy to use, meeting the needs of every single customer in every part of the world. Dierre is located in Italy, Poland, Germany, France and Spain, but its available on the market all over the world. The flagship of the company are the Dierre Partners, a network of dealers selected by Dierre who guarantee high quality of service, expertise, and customer care. Completing the network's strategic alliance are the Dierre Key Point qualified hardware and Dierre Technical Service technical support.
05
Mission
"We create projects that improve people's lives, making them easier and safer, everywhere." (Vincenzo De Robertis)
Your home is your life. That's not all. Safety in public places also effects your life, and we have been taking care of it for over 45 years. The door is an opening and closing to the world every day, the internal and intimate one, and the external one in motion.
10 good reasons to choose Dierre
1 - More protection. What's more, everything is certified.
Safety class and certification. Dierre doors have international anti-burglary certifications of class 3, 4 and 5. In addition to classification, they have an additional certification: a technical guarantee issued by IFT Rosenheim, an internationally recognized independent body that conducts analysis, testing and research..
2 - Change pays off
Tax deductions. Whichever Dierre security door you choose, you can enjoy cost advantages. In fact, even in 2020, the purchase of a new door provided the benefit of a 50 percent tax deduction.
3 - Security at your fingertips
Keys and home automation. With our simple and innovative locks and solutions, you can increase the level of protection while maintaining the look of the door. You can choose between mechanical and electronic locks, and you can enjoy the convenience of keyless entry.
4 - All the elements you need to feel safe
Frame and security details. Dierre armoured doors are built with attention to detail: frame, hinges, rostrums, and deadbolts are designed to ensure maximum performance.The frame is structured to form a single monolithic block with the door leaf. In addition, the frame and subframe made with wrinkle paint make the doors more resistant to weathering.
5 - Create the ideal environment
Thermal insulation, thermal break, water and wind resistance. Thermal insulation, down to 0.6 W (m2 x K), ensures less heat loss in winter and preserves indoor temperature in summer. The doors, with a patented high-performance insulation structure, can be structured so that water infiltration or air passage under the threshold of the door leaf is no longer a threat.
6 - Perfect structure, no damage
Anti-condensation. Thanks to the PVC frame, Dierre doors not only block heat loss but also allow you to permanently solve condensation problems. This prevents mold growth and paint damage in structural parts.
7 - Shut out the noise
Sound insulation. Dierre security doors are made with details that create an acoustic barrier and protect against external noise. The patented sash structure, frame gasket, double cold-shielding foil, fixed floor sill and "no air" mats enable a noise abatement value of up to 46 dB.
8 - Reliability even in case of fire
Fire doors. Dierre technology makes it possible to make approved fire doors capable of blocking hot smoke, cold smoke and flames. Dierre doors comply with the UNI EN 1634 standard and can be made with different fire resistance timings, from 30 to 90 minutes, to ensure safety in case of fire.
9 - No waivering
Industrial doors with handcrafted details. With Dierre doors you have the guarantee of technologically innovative products without sacrificing customization and attention to finish. We design prototypes and produce them in-house with sophisticated industrial technologies. Every security door is made entirely by Dierre: locks, hinges, keys, rostrums. Every detail is taken care of by us.
10 - Always know who to count on
After sales support.You can rely on a network of professionals throughout the country after purchase who guarantee service and provide useful maintenance advice.
In Italy and around the world
Dierre can count on seven production plants in Italy and two in Europe to make it a leader in the production of civil and industrial closures in the world.
For more than 45 years, more than 15,000,000 families in Italy and around the world have entrusted their security to Dierre.
Dierre was also a pioneer in the field of distribution and communication, thanks to an active sales network as early as the 1980s that helped spread the brand throughout the country. Today it is a multinational company with a streamlined and communicative structure, a large family of 1,000 people capable of maintaining a direct relationship with the private customer and retailer, from product selection to after-sales service.
Dierre is an ambassador of Made in Italy in the world with a sales network that counts:
5000 retailers
20 sales managers
100 sales agents
BIM
BIM Object and Archiproducts are platforms dedicated to the construction world, hosting our 3D objects and their technical features. They apply to buildings, general construction and infrastructure.
Since 2017, Dierre has implemented the conversion of many products into a BIM format that can be used by designers, a first step for an industry leader.
Leed
Developed by the U.S. Green Building Council (USGBC), it contains a set of indicators for building sustainability, both from the point of view of energy and consumption of all environmental resources involved in the building process. Dierre's metal firebreak products can contribute to the acquisition of points for the purposes of LEED (Leadership in Energy and Environmental Design) certification.
Casaclima
The partnership with CasaClima has inspired a process of continuous innovation of the entrance door, leading to such achievements as the Synergy-Out Green door and Green Plus, the first CasaClima-certified pvc-framed anti-condensation door. With these products, Dierre has demonstrated the fundamental contribution that the door can guarantee for energy savings, and the health of the environment, confirming itself as the first window frame in the home.
M.A.IA. Association
The goal today is to qualify fire safety by improving the professionalism of those who work in it. Here is where the partnership with Maia (Italian Association specializing in the training of maintainers, assemblers, fitters for fire safety) which is achieved with the organization of training seminars at Dierre's and throughout Italy and with the free supply of Dierre fire-rated products.
Gabetti Lab
Dierre became a Gabetti Lab partner, the new project of the Gabetti Group devoted to the activities of sustainable redevelopment of buildings. By participating in this project, we intend to contribute to the redevelopment of the construction industry. With Gabetti Lab, the organizations involved have the opportunity to continue their educational growth and expand the network of shared innovation in the field of sustainable construction.
Turin Architecture Foundation
September 2020 saw the launch of Bottom Up! When the city transforms from below: an idea of the Foundation for the Turin Foundation for Architecture, which directly involves the citizens of Turin and Milan through 14 proposals regarding urban transformation. Dierre joined the initiative, becoming a partner of the Foundation for Architecture and a sponsor of the project.

Warning: Invalid argument supplied for foreach() in /home/dierre-v3/public_html/wp-content/themes/dierre/template-mondo-dierre.php on line 248

The birth of Dierre
Founded in 1975, Dierre is the world's leading armoured door manufacturer and Italy's leading manufacturer and seller of interior doors and exterior doors and windows.
1975
Alessandro and Vincenzo De Robertis founded their first organization: the C.S.A. S.a.s.
1978
Dierre was born and with it the first industrialized security door was produced and marketed.
1986
Dierre was the first to acquire the revolutionary patent for the Mia interchangeable block lock.
1990
Dierre became a corporation: it had a turnover of 24 million euro, 5 factories, 250 employees and produced 70,000 security doors. Merger with Atra, Tredi, Wilab.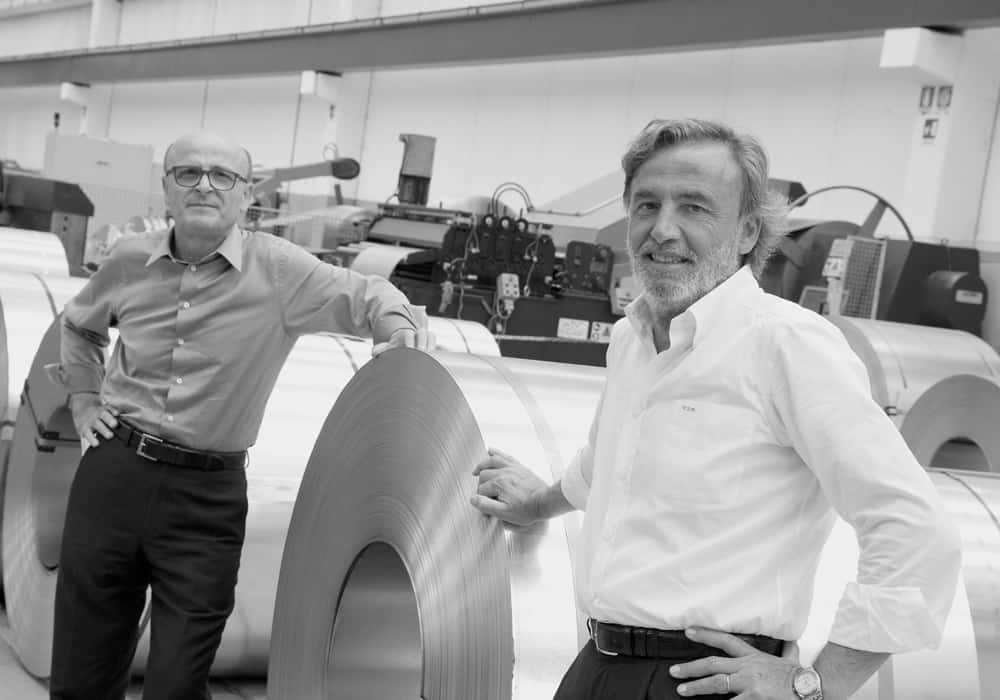 Late 1990s
1993
Space, the retractable dumpster, is born.
A clever idea to recover visibility and functionality that was limited until recently.
1997
Dierre begins its expansion abroad. Exclusive business agreements are signed with companies in France, Spain, and Portugal with the use of the trademark.
1998
Elettra, progenitor of the family of security doors with motorized electronic lock, is born.
New records
2000
Turnover is about 102 million euro. The goal of 180,000 doors a year is passed, and there are 750 employees. Construction of the seventh plant in Villanova d'Asti is started.
2004
Marketing Project and Dierre Partners are born, to elevate B2C relationships to the level of an ethical-commercial relationship. Dierre Technical Service is born, aimed at improving service and enhancing the service network in Italy.
2005
Dierre Holding was established, entirely owned by the De Robertis family.
2006
The D-Side collection, a family of interior doors flush with the wall, is born.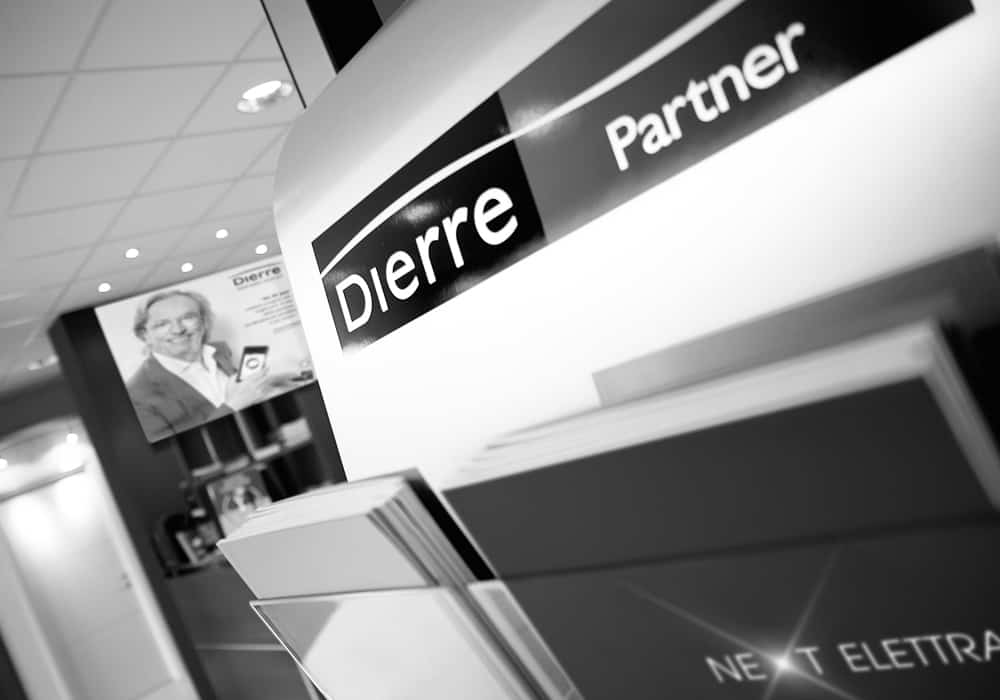 Continued growth
2007
The first products aimed at saving energy are born.
2008
Wall Security was born, the security door perfectly coplanar to the walls, in total harmony with the surrounding space.
2009
Dierre Spa becomes a partner of the CasaClima agency, a structured organization dealing with the mandatory energy certification of buildings.
Across the border
2010
Dierre Deutschland, a subsidiary of Dierre France, was added to the group.
2011
The Silence collection is born, the armored interior doors for bedrooms and Synergy In, a full-optional armoured door in a minimum thickness. The Dierre Spa group acquires direct control of Dierre France and the Iberian Dierre.
2012
Synergy Out is born, the first anti-condensation security door to be put on the market.
2013
Dierre joins the Fiditalia project to facilitate the purchase of Dierre products through the option of paid installments.
New products
2014
Tablet is born, the smart security door with great performance at a low cost, and Swing, featuring concealed hinges capable of 110° opening.
2015
Dierre starts the Leed Certification for fireproof products. During EXPO 2015, Dierre celebrates its 40th birthday with an extraordinary presence at Made in Milan.
2016
Sleek, a double-strike security door with concealed hinges with 180° free rotation, is born. During this period, the chairman of Dierre S.p.A. is Vincenzo De Robertis.
2017
Dierre presents Sleek at Architect@Work.
Next Elettra
2018
Committed to the country's fire safety.
New Idra El2 60120 steel fire doors get the stamp of approval. MAIA, Associated Maintenance Assemblers Installers Association fire safety recommended product. Dierre donates fire doors for several MAIA training centers throughout Italy.
2020
Next Elettra is born. New Light to Security.
Evolved modular security system that incorporates all the most advanced technologies developed by Dierre into a balanced, reliable and easy-to-use package.
Patents and Certifications
Patents
Mia
The lock with the interchangeable block
Anthea
The armored shutter with high security lock
Space
The concealed locking system for sliding doors.
Elettra
The concealed locking system for sliding doors.
D-Code
The double bit lock with electronic control
Macron 5.0
The concealed hinge for the double rebate and 180° openings.
New Power
The certified anti-bumping high-security cylinder
Lock Trap System
Double bit lock locking system in case of manipulation
Synergy Out
The first anti-condensation door with high thermal insulation, security, and soundproofing performance
Certifications
Mia
The lock with the interchangeable block
Anthea
The armored shutter with high-security lock
Space
The concealed locking system for sliding doors.
Elettra
The concealed locking system for sliding doors.
D-Code
The double bit lock with electronic control
Macron 5.0
The concealed hinge for the double rebate and 180° openings.
New Power
The certified anti-bumping high-security cylinder
Lock Trap System
Double bit lock locking system in case of manipulation
Synergy Out
The first anti-condensation door with high thermal insulation, security, and soundproofing performance
ISO 9001:2015 Quality Management System
Perfect balance between industrialization and craftsmanship
A Dierre door that is secure and functional, but always stylish and customizable. This is made possible by the combination of industrialization and craftsmanship that characterizes each of our production processes. In fact, aiming for the most advanced technology does not mean giving up that special handcrafted, almost sartorial care, which is evidence of a long tradition and love for things done well. Every Dierre door is designed and manufactured by us and is Made In Italy. Whether we are talking about security doors, interior or fire doors, or garage doors, there is always an answer tailored to the needs of those who choose them. In addition to different materials, lines, and colors, there are plenty of opening and configuration solutions, from the simplest to those with the latest technologies, always affordable for everyone. Every detail, every feature of our doors is the result of our informed choices: we don't go looking outside for what we can produce in-house, and when we just can't help ourselves, we select the highest-rated and most reliable suppliers. This skill makes us flexible in adapting to the market and unparalleled in product customization. This is why we like to say that we are able to combine our industrial capacity in the production of the basic components such as locks, keys, hinges, frames, rostrums and diverters with all the craftsmanship in the customization of coatings, handles and accessories, striking the perfect balance between security and style.
The industry's most innovative technologies
The door of the future is a synergy of several elements that must necessarily converge to satisfy an increasingly demanding market: maximum performance in minimum thickness. The technological excellence of each product is made possible because we keep control of the entire production cycle from design to manufacture.A continuous and never-ending innovative process that, in addition to reaching burglary class 5, pushes the very idea of the security door further toward the development of a multilayer performance concept that guarantees very high thermal, acoustic and design standards.
Partners in any project
We are involved in large projects as well as small renovations, alongside archistars and small contractors, offering everyone solutions that combine technology, reliability, and design. Choosing Dierre means entrusting your projects to a global partner capable of providing locking solutions that are industrially produced but with an almost handcrafted level of customization, unique quality, the highest standards in security testing, and always the best that technology makes available. An apartment, building or public space bearing Dierre's name, from the front door to the garage, represents the best choice for builders, the perfect calling card in the hands of sellers and the mark of superior quality, recognized by buyers. Sectors: Residential, Industrial, Commercial, Civil Engineering, Hotel.