Sleek
Elegant, essential, unique.
Sleek is resistant to break-in, up to Class 4 flush to the wall, with Macron 5.0 futuristic concealed hinges, Dierre's exclusive patent, double stop frame and 180° opening. It can be produced in large sizes, with three different design variants,
wide sidelights and transom window.
Find out more
Features
Design
The Sleek security door is in every respect a piece of furniture. Minimalist, concealed in the household space.
Refined in its details. Fluid in its movements.
It imposes its exclusive character with dimensions ranging from a minimum of 500 x 1,900 mm to 1,200 x 2,850 mm, creating a visual impact of rare and powerful suggestion.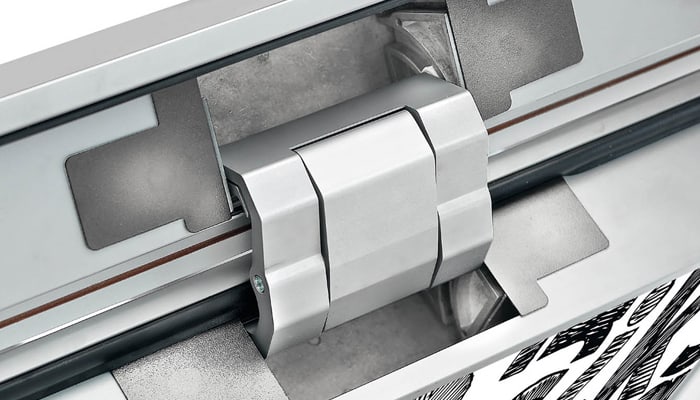 Technology and safety
Inspired by aircraft door hinges, novel and futuristic, Sleek is a technological and aesthetic revolution with excellent performance values. It is made this way by the "Macron 5.0" concealed hinge, which allows for a smooth 180° opening, overcoming the double rebate and, in closing, perfectly coplanar to the wall.
Opening solutions
Endless opening solutions: from double-bit and cylinder locks to Next Elettra and Hibry motorized locks.
Sleek can be standard flush-wall, with an aluminum finish that designs the perimeter of the door sash; or wood-wrap, with paneling and no fairing, which improves thermal transmittance up to up to 1.2.
Opening solutions
Locks
Lock trap blocking system
Cylinders New power and D-up
Keys
Locks
The Sleek Next Elettra is the only true motorized lock that can be integrated with Home Automation; it opens with the MyDoor Bluetooth App and allows remote access control with the My Bridge application.
The Sleek Hibry is a "dual function" system that combines the motorized and manual functions in a single lock.
In addition, other types of mechanical locks are available:
Sleek Sentry 1 is the simplest configuration, with a single high-security New Power cylinder, Sleek Sentry Doble has two dependent high-security D-Up cylinders, Sleek Sentry 4 in addition to the main high-security New Power cylinder has a service cylinder, with two different and independent keys.
Lock trap blocking system
All Dierre cylinder locks with gear system come with a security system (trap) that locks the carriage and keeps the lock bolts locked in case an attack is made on the defender protecting the cylinder.
In the event that the defender is pulled out and the cylinder is cracked, the system is irreversibly triggered, locking the deadbolts securely and preventing attackers from opening the lock.
Cylinders New power and D-up
Dierre's exclusive patented cylinder: the New Power D-Up.
Anti-bumping mechanism, modular cylinder, up to 4 times more resistant to halfway breakage compared to a brass cylinder, key blanks protected with rounded patented coupling.
Keys
Technology, security, and design all in one key.
The Jack Key and Easy Key are cipher keys and folding keys with built-in snap opening.
Dierre key duplication is protected and controlled by the entire network of authorized hardware stores and key points.
Want to request more information?
You can request more information through this contact form. We'll get back to you as soon as possible.