Wall Security
A contemporary design for security.
Design is a narrow line between technology and beauty. Dierre operates just on that line of thought. Inspiration takes shape. Wall Security has been conceived, the security door perfectly flush to the walls, totally blending-in with the surrounding space.
Find out more
Features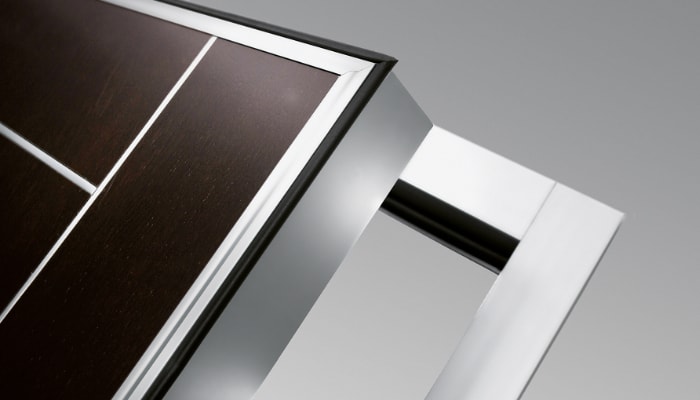 Design
Inside, a steel wall, outside, your home style. A versatile door, a highly adaptable and constantly evolving project. Wall Security multiplies space,
security and emotions.
Technology and safety
Wall Security uses and develops the most flexible solutions also with three different fitting systems: Standard, almost flush to the wall (internal side); Secret, Top Secret. Secret from the outer side it is provided for the frame to be reveal fitted, instead of Top Secret that from the outer side it is provided for the frame to be hidden from the masonry work.
Opening solutions
The reliability of a security door; the elegance of concealed hinges; the comfort of a 180° opening; the adaptability to different security closure systems, from the most traditional double bit with service cylinder to the high security cylinder, up to the fully electronic lock.
Opening solutions
Locks
Lock trap blocking system
New Power cylinder
Jack key
Locks
There are 3 different types of mechanic locks available, Sentry 1 is the simplest configuration, with a single high-security New Power cylinder. The Sentry 4 version, in addition to the New Power high-security main cylinder, has a service cylinder, with two different and independent keys. The Sentry Doble version has two dependent high-security cylinders, both D-Up, for which the service cylinder must be closed before the main one can be secured. Moreover it could have also motorized locks of the high-tech solution opening systems hibry 4.0 or Next Elettra.
Lock trap blocking system
All Dierre cylinder locks with gear system come with a security system (trap) that locks the carriage and keeps the lock bolts locked in case an attack is made on the defender protecting the cylinder. In the event that the defender is pulled out and the cylinder is cracked, the system is irreversibly triggered, locking the deadbolts securely and preventing attackers from opening the lock.
New Power cylinder
Dierre's exclusive patented cylinder: the New Power. Anti-bumping mechanism, modular cylinder, 2 times more resistant to halfway breakage compared to a brass cylinder, key blanks protected with rounded patented coupling.
Jack key
A new generation armored lock can also be recognized by the key. The Jack Key, with its unmistakably designed, is an encrypted, folding key, characterized by a shape reminiscent of automobile keys with an integrated snap opening. 2 jack keys, 3 fixed keys, 1 construction site key plus ownership card for duplication are provided as standard.
Want to request more information?
You can request more information through this contact form. We'll get back to you as soon as possible.