Back
Armored glass doors: a stylish choice without compromising on security.
Add more light to your home. Choose from a wide variety of styles without compromising on security.
Why choose a glass security door?
Each room within a home has its own importance, and the type of light that shines through it plays a central role. A room that is filled with natural light is certainly much more enhanced and becomes more inviting, and natural light is also a great way to save on electricity bills. Glass allows interior spaces to be illuminated and frees the gaze to the outside, providing maximum protection. A glass security door then is not only a stylish choice but also a tactical one. With Dierre, you can combine your tastes in design without compromising on security.
The Vitra door is the ideal solution because it combines security, beauty, and stylistic eclecticism. In fact, you can customize each element according to your preferences.
You can choose clear, frosted, or sandblasted glass; no matter what you choose, it will be resistant to break-ins and burglary. In fact, Dierre's double-glazed glass is classified as P6B according to EN 356.
Everything is set up to ensure maximum protection and peace of mind; this applies not only to the glass surface but also the locks, which come in cylinder or double map version.
The cylinder lock consists of a shaped key that rotates inside a cylindrical device. The double-bit lock features a uniquely shaped key on each of the two sides.
The various burglar-resistant elements built into the frame are also well designed to protect you.
The body is made of steel and made more solid by welding points, plus an external anti-drill plate defends the lock from burglary tools. Fixed rostrums along the sides of the hinges prevent the door from being unhinged.
Two hook diverters are positioned at the top and bottom.
The frame applied to the wall wraps around the door leaf on three sides. The frame and subframe are made of steel and firmly screwed together.
Polyester powder coating also makes the doors resistant to all weather conditions.
The door leaf covering can be made of solid wood, antiqued or not, or aluminum. In addition, it is also possible to choose the handles and finishes.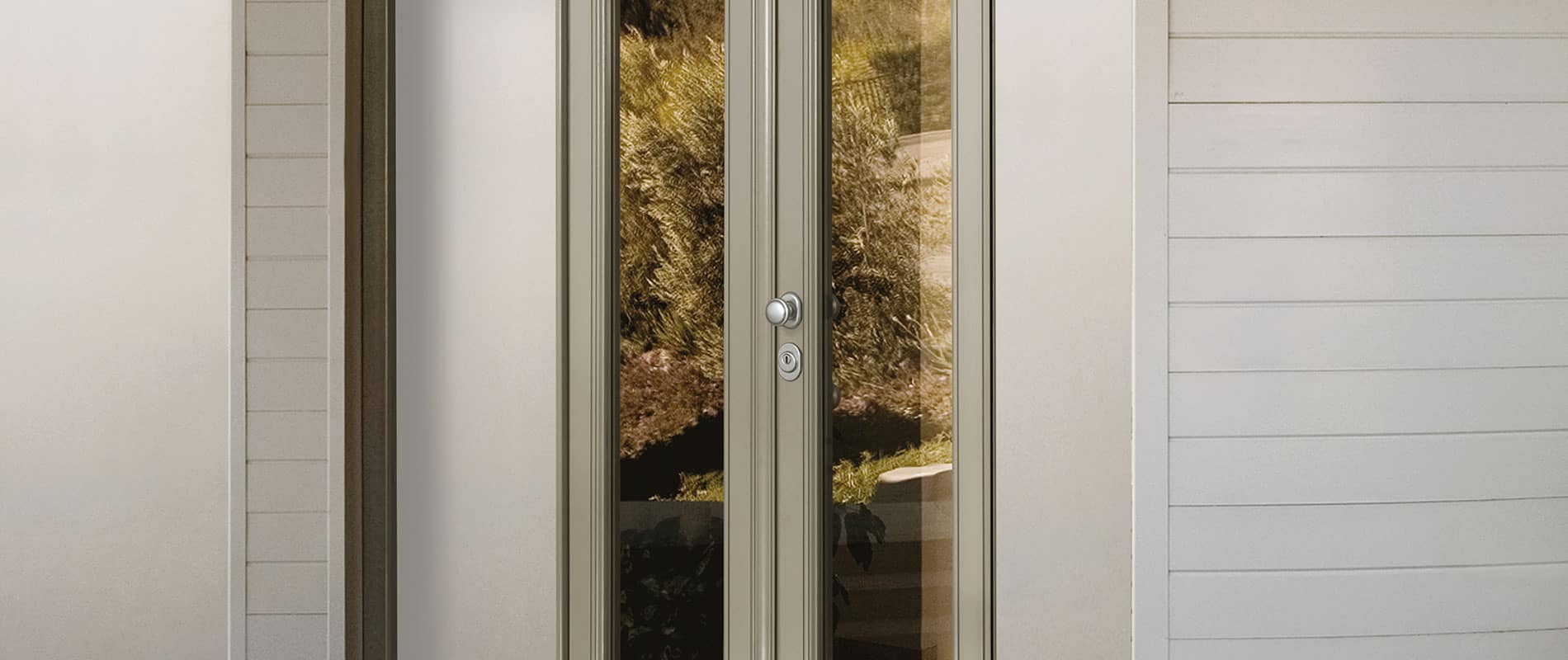 Vitra with double-glazed glass
This version with special burglar-resistant glass ensures a thermal transmittance of 1.8 (single leaf) and makes the door particularly suitable for outdoor exposure. It can be chosen in single or double-leaf versions and is available with a friction lock in double-bit or cylinder versions. It can have skirting at different heights and can accommodate sleepers and crosses.
Vitra with VISARM shatterproof glass
The large glazing space is always set up to be cut-resistant and can be kept full-surface or divided into several sections or enriched with burglar-resistant steel grilles in different ornamental shapes.
Find out all the details now!
Would you like additional information? Contact us!